good light stories
Presented here are a collection of stories from behind the lens that elaborate on what lead up to the quintessential moment when the subject revealed its authentic self and a photograph was made.
Archie West and His Pal Buddy, San Marcos, New Mexico 2001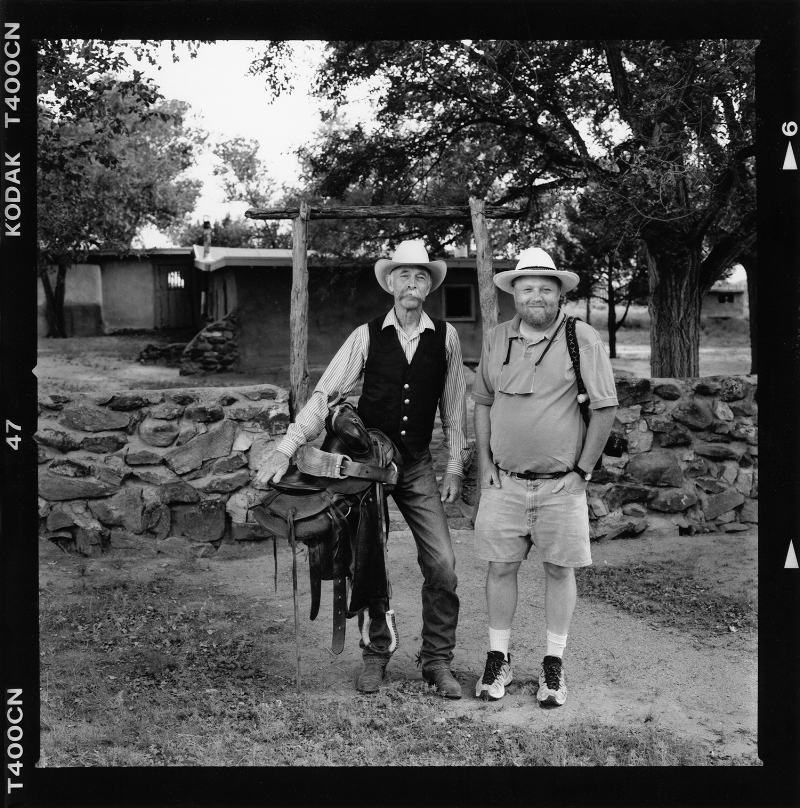 Archie West and the Photographer | Photograph by ©Ira Gostin
Archie and Buddy
I have made lots of portraits whose purpose was to make the subject, my client, appealing and attractive and satisfied with the way he or she looked. There is a big difference between the commercial portraits I used to make and the portraits I now make for myself. Perhaps that makes me a harder critic of my work, but it also frees me to be creative and authentic.
That said, I hadn't at first considered myself a photographer who made revealing and insightful photographs of people—images in which something meaningful about the subject was revealed. I saw myself as a photographer of the natural scene. But I'm aware of what makes a compelling portrait. One of my favorite portraits is of Winston Churchill, a photograph made by Yousuf Karsh in 1941. Churchill was posing, smoking as usual, and Karsh snatched the cigar out of his fingers. Churchill glowered at him, Karsh released the shutter, and the rest is history. And that's what makes the portrait authentic—seeing the defiance, the sheer force of the man come through in the image.
One of my "willing victims" is my friend Archie West. I know of no man more comfortable in his own skin (or shirt) than Archie. He is a tall, lanky cowboy in work jeans and boots, with a neckerchief snugged up to his neck and a tousle of gray hair under his hat (which he always takes off to greet people). His face is lined from sun and hard work, but the light in his eyes dances.
This photograph was made at Archie's place south of Santa Fe. For this portrait session, I had scouted the location in advance. We went to Archie's place and and he walked around with Cindy and me as we looked for potential places to photograph him. When he paused in front of this door, I knew we had found the right place. The beautiful old doors complimented Archie. There was a synergy between the subject and the background—rugged meeting rugged. I liked the way the texture of the door matched the texture of the man. I was teaching a workshop on portraiture called "Ranchers, Ramblers, and Renegades" (from the title of one of Marc Simmons's books). I was taking the students through a portrait session, from start to finish, from setting up the camera and positioning the subject to developing a relationship with the subject. We tried different poses, the saddle higher, lower, on the ground, Archie looking straight ahead, to the left or to the right. He had been stoically posing, gazing at us with those sharp eyes, so ready to catch sight of stray cattle or a pretty woman who wanted to dance. When the students were through photographing Archie, they wandered off to explore and to make more photographs around Archie's compound. I had been enjoying myself and thought I would make a couple of exposures of Archie, too. My gear was still there and the camera was focused. Just as I was preparing to photograph Archie, the dog Buddy wandered into the scene. I've talked about recognizing the precise moment, and this was it. Buddy sat down, then lay down and started to chew on his leg. Archie looked down at him with the kind of amused look any cowboy would give a little "dude" dog. I said, "Archie, look at me," and he shifted his gaze to me. He had no time to react to anything, to me, to my request; he didn't even have time to make a joke—he was still in that moment of being with Buddy. I made the picture.

An excerpt from Four & Twenty Photographs: Stories from Behind the Lens Photographs by Craig Varjabedian. Published by the University of New Mexico Press
Avalanche Creek Waterfall
This is, I think, a beautiful photograph, but the day I took it was of one of the most horrible and tragic in United States history—September 11, 2001, the day of the terrorist attacks on the World Trade Center and the Pentagon. I will never make sense of that event. Every time I look at this photograph I think about that day and how no one old enough to remember it will ever forget where they were on that awful morning.
My friend Paul Cousins and I were in Glacier National Park in Montana. Paul had been telling me about this magical place along Avalanche Creek for several years, and I knew I wanted to make a photograph of the waterfall in the soft light of early morning. We set out at first light from our little motel, but there was no real sun—the sky was overcast and everything seemed softened. We got to the park about 6:00 a.m. and headed up the trail. But when we got there, it was a beautiful view and I did want to make a picture of it. So I looked around and thought and measured. I planted my tripod about fifteen to twenty feet off the trail (I had permission) and got to work.
I hadn't had my coffee and I was muttering under my breath when we heard footsteps. We looked up to see a park ranger on the trail. He spoke to us: "Have you heard about the airplanes that crashed into the World Trade Center?"
Six in the morning in Montana is 8:00 in New York, so it must have been about 7:30 or 8:00 Mountain time when we heard. The plane had just crashed into the Pentagon as well. I don't know how the ranger knew about it or why he was on the trail; maybe he needed to get away from the horror of it.
Paul said, "Go ahead and photograph the waterfall." He didn't dismiss the events or our feelings about them; he just reminded me to do my work. At the moment that was to record the beauty around us, even as our brains were beginning to conceive of the pain and chaos that must be gripping the nation.
So I made this photograph. I made a deliberate decision to leave the shutter open for about eight seconds, so the water appears as if it is a veil flowing down the rocks. If I had kept the shutter open for a shorter time, the water would have appeared frozen, giving it a glassy effect. I wanted it to have a sense of movement. At one time I had done a series of tests of moving water to determine how I wanted to render it in my photographs. So I knew how long I wanted to expose this scene.
Thinking back, I feel now that our decision—to stay and photograph—was influenced by that pristine moment at the waterfall. Despite all that was going on, we were witness to a haven in the Montana wilderness. The water rushing down the rocks was a natural phenomenon, far removed from the horrible image of falling buildings. The waterfall was, to me, the stronger image, and I wanted to stay, in defiance of anyone who would try to keep me away from beauty. I could not, nor ever will, forsake my love and passion because others would deny or threaten me.
An excerpt from Four & Twenty Photographs: Stories from Behind the Lens Photographs by Craig Varjabedian. Published by the University of New Mexico Press
Avalanche Creek Waterfall, Glacier National Park, Montana, September 11, 2001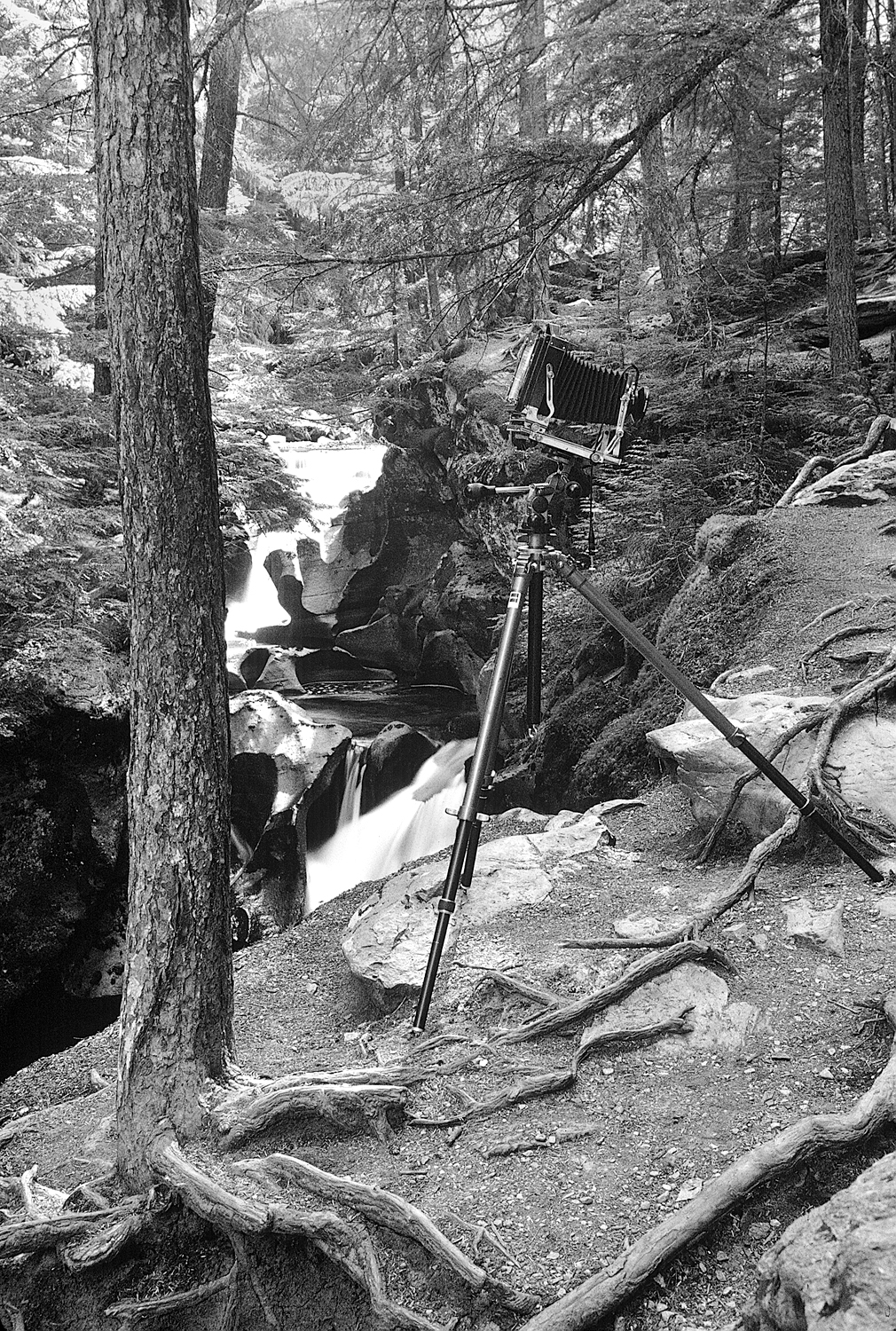 View Camera at Avalanche Creek, Glacier National Park
Hayloaves ("Affordable Housing"), Jackson, Wyoming, 2000
While photographing, I often meet kind and generous people. Ranch owner Liz Lockhart let us photograph the haystacks in her fields and invited us back to photograph a cattle drive the following spring.
Hayloaves ("Affordable Housing")
I look at these hayloaves and see a time that's almost gone. The ranches and farms of the West still exist, but their importance as mainstays of the community and its business life has dwindled. Fields have gone fallow, herds have been sold off, new enterprises such as bed-and-breakfasts and dude ranches have replaced the working of the land. I know things change as time passes, but I will miss the grand haystacks and beaver slides. I'm glad to have found these examples to photograph.
I almost didn't. I was traveling with my friend Paul Cousins, looking for places that spoke to us to photograph. Paul was driving and I was looking straight ahead when a voice in my head said, "Look to the left." Otherwise we might have driven right by these haystacks.
We drove up the road to the ranch house to ask permission to make photographs, and the woman of the ranch, Liz Lockhart, who was not dressed in Irish garb at all but in jeans and denim shirt, granted us permission.
To find the best place from which to photograph, I use a small, portable viewing frame (in my case, cut to the proportions of the camera's format) to compose an image. I took my cardboard viewing frame, walked around, and figured out where the elements needed to be. This picture just fell into place. Then we set up our tripods and cameras and started working. The sun eventually burned off the mist, but we made several good photographs, including this one.
Later, I sent a copy of the image to Liz with a note asking if she could explain the hayloaf that looked like a house. This is what she wrote in response: "Jackson has a tough time providing affordable housing for a lot of people. Quite a number of wealthy people have moved here and the price of land and homes is pretty steep. A lot of the service people have a hard time making it here, so many drive over Teton Pass or through Snake River Canyon to come to work every day. A group of us on the ranch decided to turn one the stacks into an 'affordable house,' and that is the story behind the one with the windows and doors."
An excerpt from Four & Twenty Photographs: Stories from Behind the Lens Photographs by Craig Varjabedian. Published by the University of New Mexico Press